Zanzibar Island
You will have the opportunity to explore Zanzibar Island, both on land and in the water. You will see aquatic species whilst diving or snorkelling and terrestrial species around Zanzibar Island and if you visit it, in the protected Jozani Forest. In addition, you can choose to spend time in the World Heritage listed Stone Town with a special dinner in town. There are a myriad of ways in which to spend time on Zanzibar - the choice is yours!
Location & size:
Zanzibar island (Unguja) is a coral island 110km long and 40km across at its widest point. It is situated about 40 km off the coast of Tanzania and is one of a number of islands on the archipelago.
History:
Famous as one of the 'Spice Islands', it has been inhabited by humans for well over 2000 years. The first inhabitants of the island were probably Bantu speaking Africans. By the 1st century, Arabic trading routes were well established, and by the 10th century, Shirazis from Persia had arrived. Zanzibar grew in importance and became a powerful city-state, its most famous import being spices such as cloves. Today, the inhabitants of the island as a mix of Bantu, Arabic and Persian people. Zanzibar gained independence from the British in 1963 and merged with Tanganyika in 1964 to form the United Republic of Tanzania.
Beach & Underwater:
Whilst on our Holiday, you may choose to relax and soak up the sun on the beautiful palm-fringed sandy white beaches. Alternatively, you can go for a snorkel or a dive in the spectacular turquoise seas and explore the pristine coral reefs, home to an abundance of marine life.
Dive sites off Zanzibar range from shallow fringing reefs to drift dives and coral-covered wall dives. The diverse array of marine life occuring here includes manta and sting rays, whale sharks, reef sharks, morays, huge napoleon wrasse, reef fish such as lionfish, moorish idol and parrot fish. There is a huge variety of colourful hard and soft coral around this island, including staghorn and brain coral, and gorgonian fans whilst invertebrates include barrel sponges, large lobsters and nudibranches.
On Land and Jozani Forest:
You can choose to visit the indigenous Jozani forest (Jozani Chwaka Bay Conservation Area); a very rewarding trip. It is a protected forest that includes the ground water and coral rag forests as well as salt marsh – the forest covers an area of about 2500 ha. About 100 species of trees and 40 species of birds live in the forest.
It is also home to the endangered and endemic red colobus monkey – there are estimated to be just 1500 monkeys remaining.
A number of gecko species occur on the island, including the brightly coloured yellow-headed dwarf gecko, Brook's gecko and tree gecko. Brown house snakes and spotted bush snakes are also commonly found on Zanzibar.
Birding on Zanzibar - more info
Herping on Zanzibar - more info
Stone Town:
You can wander through the narrow streets, absorbing the sights and sounds of Stone town. Here you will experience the exotic and fascinating culture, architecture and lifestyles of the local Zanzibaris living in the well known UNESCO World Heritage listed Stonetown. Zanzibaris carve doors with elaborate designs reflecting the island's rich Arabic heritage - the oldest is said to date back to 1694.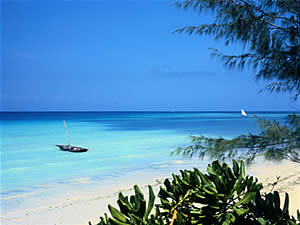 Zanzibar - Tropical Spice island

Forests, pristine beaches & coral reefs

Palm-fringed sandy white beaches

Indigenous Jozani Forest

World heritage listed Stone Town

Snorkelling, diving, kite-surfing, sailing

Sundowners on a traditional dhow

Long relaxed dives

Dive with Whale Sharks

Astounding Mnemba Atoll, visibility 20 – 30m

Whale migration: pilot, humpback, sperm

Curious, playful bottle-nosed dolphins